---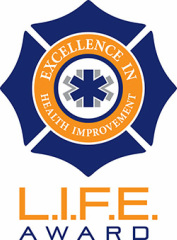 The Leadership in Fitness Excellence (L.I.F.E.) award, co-presented by the Indiana Fire Chiefs Association and Public Safety Medical, recognizes the exemplary efforts of Public Safety Departments to improve the wellness and fitness of their personnel.

Presented at the annual Indiana Emergency Response Conference (IERC) in Indianapolis, up to four fire departments with exemplary wellness-fitness programs are recognized.

DEADLINE: August 18, 2017


---
---
Categories There is a winner and runner up selected from the following categories:
Career Departments
Combined/Volunteer Department
Selection Process
In order to ensure fairness in the selection process, all department applications will have all identifiers removed prior to judging. A panel of five judges will then evaluate each application separately. Finally, the scores will be averaged, and the department with the highest score will be selected as the winner.
The judging panel consists of a representative from the following organizations:
Indiana Fire Chiefs Association: Wellness-Fitness Committee Member
Public Safety Medical
Indiana Association of Cities and Towns
Professional Fire Fighters Union of Indiana
Indiana Volunteer Firefighters Association
---
Winners Receive
Cash and valuable prizes
Recognition at the annual Indiana Emergency Response Conference
Crystal trophy for winner and plaque for runners up
Recognition for best practices and model programs
---
2016 L.I.F.E. Award Winners
Career Department Winner
Wayne Township Fire Department

Career Department Runner-up
South Bend Fire Department

Combination Fire Department Winner
Decatur Township Fire Department


---
2015 L.I.F.E. Award Winners
Career Department Winner
Fishers Fire Department
Career Department Runner-up (tied scores)
South Bend Fire Department
Brazil Fire Department
Combination Fire Department Winner
Bargersville Fire Department
No runner-up in this category